CTV is an amazing advertising tool for any business. People often make the mistake of referring to CTV as over-the-top or OTT. Though they are related, CTV and OTT refer to different things and should not be confused with one another: 
CTV represents the devices that stream video content (i.e. Smart TV's,

Gaming Consoles, and other devices such as Amazon Fire Stick, Roku

and Apple TV) while OTT refers to the content delivery method (i.e. If

you watch a show on Hulu from your laptop or mobile device)

CTV advertising spans multiple media platforms, from Apple TV to Roku

to PlayStation, etc.

Moreover, CTV ads run the spectrum of streaming services, including

Hulu, Netflix, Amazon Video, and more.
With a wide array of smart TV manufacturers and avenues for advertising, CTV ads are a modern solution for a decade's old problem: how to help a brand build momentum. While eMarketer estimates that just 78 million of U.S. households had a cable subscription at the beginning of 2021. In contrast, business owners can reach 84 million people through Connected TV devices.
Your target audience is no longer consuming video advertising strictly through traditional TV ads. Instead, now advertisements are popping up amongst their favorite streaming services while additionally intaking ads when browsing Youtube. 
While some advertisers have been hesitant to devote resources to reaching the rising audience available through streaming channels, most are aware of the benefits. According to this study, 87% of marketers believe that CTV advertising is as effective as, if not more effective than, traditional television advertising.
What are the advantages of CTV Advertising?
Engaged audiences

:

CTV viewers are engaged in the content they're

viewing, and in many cases, cannot skip or fast-forward through ads.

Data-driven targeting

:

Opportunities to leverage addressable, first-party

data help marketers reach their target audiences with much more

certainty than with linear TV ads.

Brand safety

:

The high-quality nature of CTV content means there are

far fewer brand safety risks inherent to the medium.

Cost:

CTV

advertising helps brands reach audiences as costs are far

lower than traditional broadcast TV.

Measurement:

CTV measurement

is anchored in the cross-channel

device graph allowing marketers to understand the effect CTV exposure

has on driving conversions and measure the overall impact of their

omnichannel marketing strategy.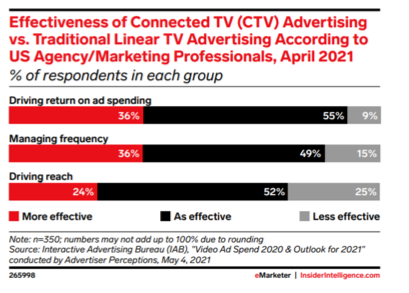 CTV viewers look for brands whose values align with their own
80% of CTV viewers said they are more likely to pay attention to ads

from brands that are in line with their lifestyle and opinions.

Research from

Magnite

shows that an engaged CTV viewer is twice as

likely to purchase a product after seeing an ad they paid attention to

when compared to traditional TV viewers.

Summarized
All in all, CTV advertising offers a more extensive reach and similar quality to linear TV advertising campaigns while also enabling the targeting and measurement potential of the modern digital ecosystem. 
As a result, by utilizing all of the contextual data and customized advertising to reach people, they will in turn improve the effectiveness of their CTV campaigns. 
We are here to help you with all of your marketing needs — whether it's digital, TV, radio, or PR, the experts at Bloom Ads craft media plans that drive ROI for your business. Visit our website to learn more about our advertising services or give us a call directly at 818-703-0218.